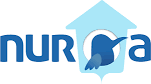 Nuroa is a vertical real estate search engine that displays real estate offers available on the internet for rental, sale and sharing of property including holiday rentals. Search results can be filtered by interest, property type, districts or drawing an area on the map.
History
Nuora was founded by Oriol Blasco and Gary Stewart in 2006. In August 2007, the project was presented at the Essential Web 2007 conference in London. Between September 2007 and 2009, Nuroa launched in several new markets including:
Spain, winning Red Herring Europe Award.
Germany
In 2009, Nuroa expanded globally, reaching 15 countries, adding Italy, Portugal, France, Austria, Switzerland, United Kingdom, Ireland, Mexico, Chile, Brasil, Argentina, Australia, and the United States.
In 2012, Nuroa developed a site-specific tool that allows enables users to draw an area of the city map in order to refine a search.
In 2013 Nuroa added a tool enabling users to see the price evolution of the market per areas.
Data
30 million ads - October 2014
2 million users - September 2014
15 countries - October 2014
3 main products : Sale / Rent / Share (Holiday rentals)